Kelly
---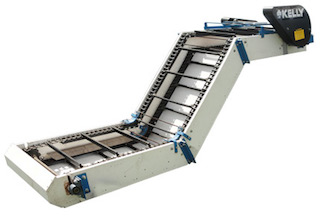 Poly Conveyors
Available in 18 or 24 inch widths. Inclines and declines available up to 45 degrees. Used for various applications including high volume center discharge silo unloaders. Double chains are standard. Poly sections interchange With wood sections. Now available: Retro-Fit Poly Idler End.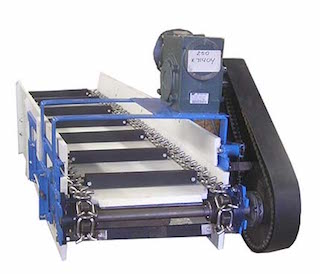 Stainless Chain Heavy Duty Conveyor
Poly idler sides available on all wood conveyors. Idler end slotted for easy shaft maintenance. Overall Width 19 1/2" or 25 1/2". Trough Width 18" or 24" or Trough Width 36" for maximum capacity needs. Poly floor is 5/8" thick.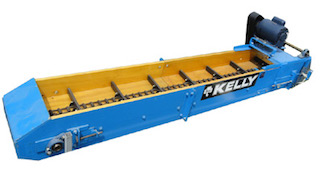 Wooden Single Chain Standard Conveyor
Available with chain tightener. Cast housing With wreasable bearings. All wooden units are made with the poly sides on the idler for the removal of the bearing and shaft. #62 Detachable link with poly paddle. Overall Width 12 1/2". Trough Width 11". Overall Depth 9 1/4". Trough Depth 5". Lengths Up To 40'.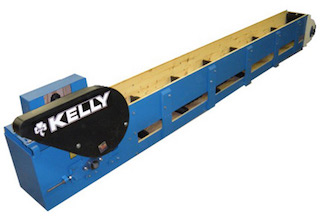 Wooden Single Chain Heavy Duty Conveyor
1 1/4" Diameter Drive Shaft. Cast sprockets. Greasable bearings. #67 Pintle chain and #50 Roller drive chain. Polyurethane on surfaces in contact with feed. 3/16" thick steel on drive unit. Chain tightens on idler end and drive end. Overall Width 13". Trough Width 11 1/2", Overall Depth 16". Trough Depth 8". Lengths Up To 150'.
---