Acme
---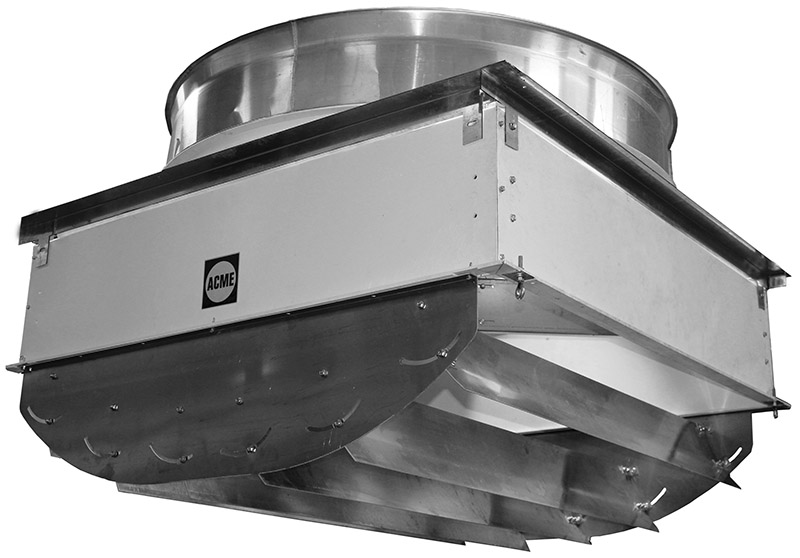 DXP60DB Downblast Fan
The DXP60DB downblast fan is built using the same material and quality products as our popular DXP60 wall exhaust fan. Perfect for focusing air in specific locations such as holding areas in the milking parlor. This fan can also be used for cooling employees or machinery and works great in warehouses or factories.
Up to 41,000 cfm using 2 hp energy efficient motor
Precision injection molded housing
VFD compatible motors available
Focused, High volume air flow exactly where needed
Approved for commercial applications
Reduces heating fuel demand
Stainless hanging bracket included with each fan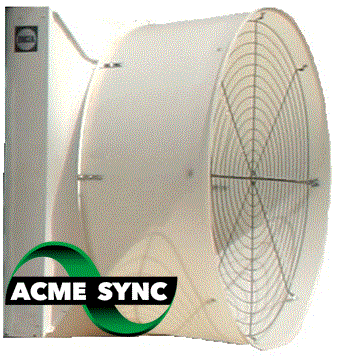 Acme Sync Direct Drive Fans
Acme's new line of brushless DC motors are the most efficient motors available for your Ag and Hort applications. When coupled with the DXP60 fan the Acme Sync motors maintain 85% efficiency throughout speed ranges from 40%-100% while in a direct drive application. This equals:
More than 40% energy savings over AC belt drive design
Single phase or three phase input compatible
Maintenance free - No bearings, belts, or tensioners to replace
Full speed performance = 38200 CFM @ .10" SP and 24 CFM/W
Half speed performance = 19100 CFM @ .10" SP and 36 CFM/W
Annual energy saving of $570 as compared to AC belt drive unit.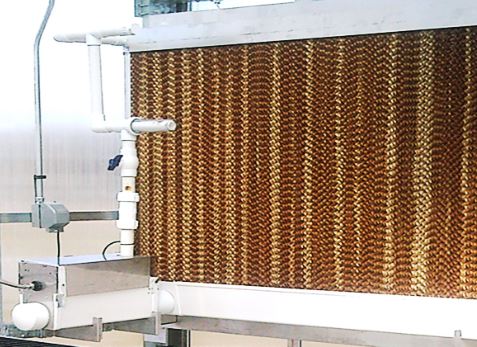 CSEG Evaporative cooling system
Acme's OSEG (open top) and CSEG (closed top) evaporative cooling systems are used in many Ag and Hort applications. Supplied with Acme's KoolCell cooling pads and used with Acme exhaust fans, you create a more pleasant atmosphere for either livestock or plants.
UV protected composite gutter
All metal parts are stainless steel
Water tight gutter severs as storage tank
Heavy duty stainless steel wall mounting brackets
Wall or Floor gutter mounting options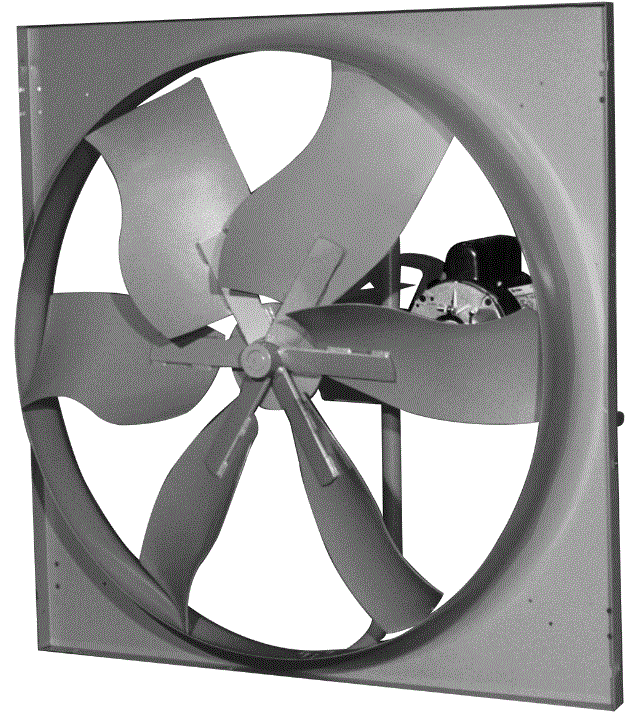 DC/DSF Freestall Stir Fans
The Acme Dairy Stir Fan (DSF) is sold in 4, 5, or 6 blade models as shown. These fan are great for hanging over freestall beds to increase cow comfort. These are available in 48" and 54" models with either 1 or 1.5 hp motors, single or three phase. The supplied pipe clamp kit will allow you to use your own 2.5" pipe or purchase with Acme's "L" bracket hanging kit.
---