J&D Manufacturing
---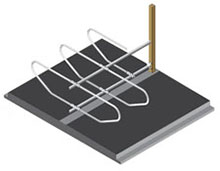 Split Rail Suspended Freestall System
J&D Manufacturing has taken the popular Twin Beam Suspended Freestall System and separated the beams into a split rail configuration that allows the rails to be mounted at any height independently. The heavy-gauge, corrosion resistant Split Rail System fits all sizes of our Ironside or Relax Fit loops without requiring specialized loop brackets for different loop heights. Each loop is attached to the rails using 2 of our 2-3/8" or 1.9" universal loop brackets. The J&D split rail system is one of the most flexible and easy to install freestall systems on the market today at an affordable price.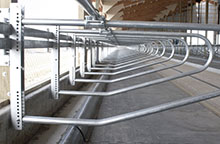 Adjustable Twin Beam Suspended Freestall System
J&D Manufacturing's popular Twin Beam Suspended Freestall System is now more flexible than ever before! Cow spacing is fully adjustable along the Twin Beam tubes for more cow comfort area. The Twin Beam height is fully adjustable using the new adjustable post and wall mount, and for the first time ever, even the loops are fully adjustable! The Twin Beam System uses J&D's proven Ironside, Relax Fit, and Dog Bone heavy gauge loops.
The Adjustable Loop Twin Beam System offers the same features as our standard Twin Beam system, but adds the flexibility of individual loop adjustments. Consider the possibilities of raising or lowering the height of individual rows or sections of stalls throughout your barn to fit your growing herd. With the new galvanized bracket option you can create a fully galvanized system using J&D galvanized twin beams, brackets, mounts, and clamps. The Adjustable Loop Twin Beam System is available for 2-3/8" loops, and also for 1.9" calf or heifer loops.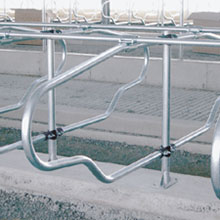 Featuring Relax Fit and Ironside Loops
J&D Manufacturing's Single Post Relax Fit and Ironside Freestall Systems give today's progressive farmer the proven features of our heavy duty loops with the flexibility of our weld-free clamp system. The single row or head-to-head clamp system allows you to easily adjust the height of the loops so your cows can have the comfort they deserve. In today's changing world, why not invest in a freestall system that can change with the needs of the herd?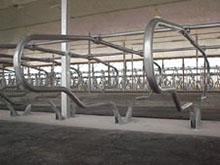 Post-less Free Stall System
J&D's Post-less Free Stall System requires less hardware, provides increased headroom, and reduces air restrictions and animal injuries. With the benefit of being able to install after cement is poured, and with no concern for post placement, this system allows for easy retrofitting without all the complications and adaptations needed with other systems.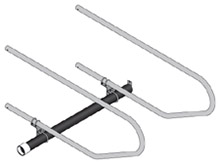 Adjustable Poly Brisket Tube System
J&D Manufacturing's new Poly Brisket Tube System is gentle on your cows. Unlike wood or concrete brisket systems, our poly tube has a round profile to prevent injuries. The adjustable stall mount bracket system moves easily up or down, forward or backward to provide the proper lunge room for various size animals.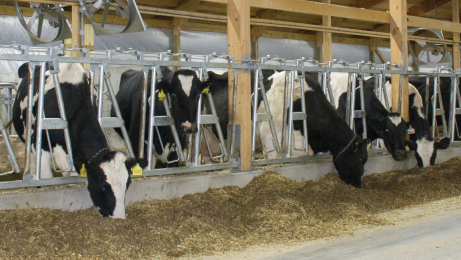 Auto Release Adjustable Square Tube Superlock Panels
J&D Manufacturing's popular Square Tube Superlock Panel is now fully adjustable! Neck openings have three adjustment levels to give an additional 1¼" opening. J&D's full line of square tube mounting brackets offer endless combinations to flush mount, face mount, or comfort tilt mount your headlock panels. New and improved features include a hideaway control rod handle and an easy release latch to keep your fingers clear during individual release.
Features:
Standard panels available in cow or heifer models
2" x 2" square tubing on top and bottom rails
Panels are hot dip galvanized INSIDE and OUT after welding
7 1/2", 8 1/8", and 8 3/4" adjustable neck opening on cow panels 6 1/4", 6 7/8", and 7 1/2" adjustable neck opening on heifer panels
2 1/2" spacing between openings on cow panels 19" spacing between openings on heifer panels
2" x 2" square tubing on top and bottom rails
Panels are hot dip galvanized INSIDE and OUT after welding
Easy release safety latch with no loops or eyeholes to catch your finger in
Hideaway control handle folds down flat to panel
40" high standard panel height
Wide 17" to 18 1/2" head entry opening for easy access (head opening size changes when neck opening is adjusted)
Lock in one or more animals and release the rest
Swing arm is counterweighted to automatically return to the open position
Overswing allows quick and safe release of a downed cow
Rubber cushion on swing arm return to reduce noise
No latch movement in open position
Operate up to 200' of headlocks with a single control rod handle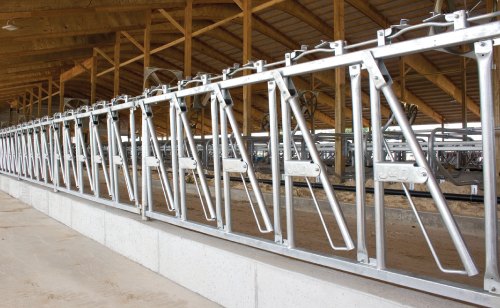 J&D Hercules Headlocks
No one can beat the Hercules on weight, strength, adjustability and performance! The new Hercules headlock panels from J&D Manufacturing are the HEAVIEST adjustable headlocks on the market today. Hercules panels include "beefed up" hardware for extra longevity.
Features:
The HEAVIEST adjustable headlocks on the market
7 and 10 gauge steel HERCULES construction
3/8" Grade 8 and Grade 5 bolts and nuts on main swing arm and yoke connections
Hardened bushings for bolt longevity
Heavy duty 2" x 2" square tubing on top and bottom rails
Panels are hot dip galvanized INSIDE and OUT after welding
Extra large rubber bumper on swing arm return to reduce noise
Adjustable neck openings• 40" standard panel height
Easy release safety latch with no loops or eyeholes to catch your finger in
Hideaway control handle folds down flat to panel
Wide 17" to18½" head entry opening for easy access (head opening size changes when neck opening is adjusted)
Lock in one or more animals and release the rest
Swing arm is counterweighted to automatically return to the open position
Overswing allows quick and safe release of a downed cow
No latch movement in open position
Operate up to 200' of headlocks with a single control rod handle
---